Welcome to Camp Half-Blood Wiki
Camp Half-Blood Wiki is the wiki all about the internationally popular and successful Percy Jackson and the Olympians and Heroes of Olympus series!

Here are some links to get you started:
Recent changes allows you to view any new or recent activity done on the wiki.
Random page allows you to view a randomly selected article from the wiki.
Questions? If you have any questions feel free to leave a message on the Help desk or on the talk page associated with each article, or you can send a message to anyone's talk page.
Need Help? Then it is suggested that you visit the Community Portal or view our easy to use wikia guides. It has an outline of the site, and pages to help you learn how to edit.
Make sure to log in every time you edit, so that we can recognize you!
Good luck! We hope to see great things from you in the future!
I am an admin here so feel free to contact me on my talk page if you need anything.-- Athletiger (Talk) 22:32, August 15, 2011
Hello and welcome to the wiki. I hope you enjoy contributing here. If you have any questions feel free to send messages to me or the admins. And please sign your messages next time (I saw your message to the other user). ~Athena LeahAthena Jackson~Call me Leah 16:18, August 22, 2011 (UTC)
Athletiger
TALK - 03:15, Saturday May 18, 2013
Welcome to the Wiki! Enjoy your stay at camp. Any questions? Ask me, as I am a bureaucrat, or any other user, we're all very nice here.


Just a few reminders:


Please read our policies. While you have been to other wikis, and be even a sysop at your wiki, it is still important to follow our guidelines here.
As a permanent reminder, we are limiting blogs, so if you would like to create a blog, please request for a spot here. If you ignore this policy, you will get a warning, and subsequently a block.
Keep editing! It really helps if you improve this wiki with images and rewrites of each paragraph.
Welcome to Camp Half-Blood Wiki!!!

I'm PerseusJackson (feel free to call me Pers, Perce, Perseus, PJ or even Jordan) and I'm an admin on this wiki. This means that I'm one of the people in charge of this wiki. I hope you have fun here and help to improve the wiki. Please leave a message on my talk page if I can help with anything!
I'm sorry.
Edit
I'm sorry about that, please let's chat.
Edit
I'm sorry about that, please let's chat. -- ImperiexSeed, 9:54 PM, September 7th 2011
I fixed your profile, hope you dont mind but it was kind of messed up. Darkcloud1111~Fastest Hero Alive 21:29, September 18, 2011 (UTC)
hey last time i talked to u i called u dumd i didnt mean it in a bad way just a joke okay? Artemis12 15:02, October 3, 2011 (UTC)
thax for the forgivness wish more people where lik you :( Artemis12 15:08, October 4, 2011 (UTC)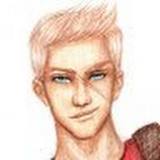 It is like walking out of a dark hallway, and into a mini sun of a world. (since i haven't seen the sun in so long) It was pretty easy. I also came out with Silena, Charels, and Luke. Since I am no longer a Hunter of Artemis, I am dating Luke. I know it sounds weird, but it's true! We have been dating for 6 months now. We actually grew up together after I was released from The Lotus Casino. Only Chiron nows were dating. So shhhhhhhhhh don't tell anybody, encluding Percy, Annabeth, and the others. Here is a picture of him I drew.
Hades's-Daughter (talk • contribs) 00:12, October 7, 2011 (UTC)BiancaHades's-Daughter (talk • contribs) 00:12, October 7, 2011 (UTC)

Whoops, I forgot to tell you how it felt to die. I would not recomend it. How I died, it felt like you were put in an oven at 150 degrees, exploded, and become blind. Then you would wake up in the Underworld in the Hall of Jugdement. Fun, huh?
Actually, I did!But I knew who she was. While I was in the Underworld, me and Luke helped stop the monsters from going out. Then Thanatos came and took our place.
I was wondering how you made that thing with your person, eye color, hair color, weapon, family, etc. How do you make that. I would like to do that.
              Thnx!!!!!=)

Hello <insert name here>, we are currently trying to decide on improving that background of this site. We have a few ideas, but we would like hear what you have to say. Please go to this blog and tell us your ideas. Athletiger Talk~Face it, you're special. 16:44, October 9, 2011 (UTC)
hey, it's nothing....look at my profile now Artemis12 18:34, October 23, 2011 (UTC)
You're adding incorrect/non-canon stuff to pages, please desist in doing thisPerseusJackson-Jordan Terraemotus Tempestas 20:55, October 29, 2011 (UTC)
Hey..I Am Very Bored O.o RAWR Artemis12 03:51, November 23, 2011 (UTC)
Heyz
Wonna talk Artemis12 01:04, November 26, 2011 (UTC)
Heyz Im bak
Artemis12 02:31, November 26, 2011 (UTC)
I wont be able to talk ot yew anymore on chat I HAVE BEEN BAN sorry o__o Artemis12 22:56, December 23, 2011 (UTC)
Lol Kitty yew can still leave me messages and junk o_o Artemis12 23:33, December 23, 2011 (UTC)
I fixed your profile a bit because it was kind of messed up, I hope you don't mind. Huh, de sha vu. Darkcloud1111~Fastest Hero Alive 21:23, August 17, 2012 (UTC)