Hello person. IF YOU EDIT MY PROFILE YOU WILL BE SORRY! Well, you can edit the friends section if you find it necessary. And so, let us begin.
User Boxes and Junk
Edit
Chris


Title
God of Potatoes and Randomness
Son of Hephaestus and Aphrodite
The Newest Olympian
Vital Statistics
Gender
Male
Family
Aphrodite (mother)

Hephaestus (Father) Multiple Siblings

Status
Immortal
Eye Color
Hazel (With Streaks of gold)
Hair Color
Brown
Height
As a god, usually very, very, tall. But sometimes, a height of 5' 10"
Other
Affiliation
Olympus
Weapons
Potato Pistol
Species
Potato (god)
Home
Olympus
Greek/Roman form
Sirhc (Roman)
Appearances
Everywhere
Actor
Me
Quests
Quest of Magical Random Potatoes
Best Friends
Edit
Other Friends
Edit
Other People I like
Edit
Friends no longer on the wiki
Edit
People who dissapear without warning
Edit
I just so happen to be a person. mhm.
Edit
I'm a person, so if you are a person, you're like me.
And get this, you are a person
Uh huh
My Godly Heritage
Edit
Hephaestus
Edit
Hephaestus, of course, is my father, and that makes Leo my brother. I totally see the resembalence. I mean, we are both potatoes! I know, I know. We could be twins! Now, you may think he is only my half brother, but who cares! I am the second-best swordmaker in the world, after Leo, but when I was banned to camp half-blood, my siblings there described Beckendorf, and with what Leo already is, I see this as a challenge. I have been striving to make a quadrouple edged Steel, Stygian Iron, Imperial Gold, and Celestial Bronze sword, although I have no one from the Hades cabin to lend me some of the Stygian Iron. It's so stressful.
Aphrodite
Edit
Now, I am also a child of Aphrodite. I have heared that there are not very many sons of Aphrodite. But I am a god, so I didn't think that would be a problem. But when I was banned to camp half-blood, that was terrible.
The Percy Jackson Pledge

Edit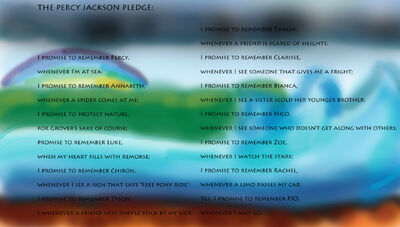 The Best Messeges I have ever gotten.
Edit
Messages_
Sorry, I just went to bed. I'll find him... WHY DIDN'T YOU LEARN TO CONTROL YOUR CHILD. SayuriDarling(talk •contribs) 16:44, November 26, 2011 (UTC)
Whoa bro...I just got on the computer (got back from school) and clicked random page on another wiki twice and then suddenly the message thing popped up. You just messaged me! I'll help, but I need to study for finals. The Awesome X! (talk • contribs) 22:35, December 12, 2011 (UTC)
I dunno who i forgot :D Artemis12
Earlier today you asked me why I hate Piper. Here is my reason: (Note: DO NOT TRANSLATE!) Γαμώτο. Piper είναι μια σκύλα. Σκατά της! Αν συναντώ της ποτέ, εγώ είμαι πρόκειται να σπρώξει συγγνώμη κώλο Piper του σε ένα ποτάμι. Piper είναι ένα γαμημένο ηλίθιο . Ω σκατά! Εύχομαι Drew ήταν μέρος από τις επτά. Piper είναι ηλίθιος !!!!!!! Σε κάθε περίπτωση Piper πρέπει να πέσει σε ένα λάκκο των σκορπιών, Άρη, γίγαντες, τιτάνες, τα φίδια, και τα άτομα με μαχαίρια!! Shannon Judd~Peace Love Deathly Hallows 03:58, January 2, 2012 (UTC)
I GOT ROLLBACK RIGHTS!!!!!!!! YAYAYAYAYAYYY!!!!!! well, it's not official yet, but dude, i have like THREE votes. Ath will agree soon enuf. thanks for the vote btw. 'preciate it. what can i say, i'm super nice=super popular. and i'm good at making friends. my wiki-a-mtic result says the same. and besides, i worked really hard for it. :)--||Nafisa Tabs||Hate is a useless emotion. Go find the silver lining!!

06:32, January 30, 2012 (UTC)

yay!

Athletiger

Talk~Diana Chen 23:48, February 17, 2012 (UTC)
Btw, i did get selected for the spelling bee. I AM SOO FRICKIN' EXCITED!!!!<span style="color:Silver;font-family:DearTeacher-Normal;">--||Dedcat||</span>--Dead Cats tell no tales...☮ 07:01, February 18, 2012 (UT
My Welcome Bubble
Edit