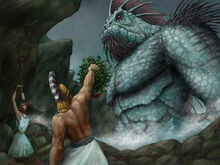 IS LEAVING SOON. CHECK MY BLOG.Edit
Hey, I'm Ricorum Scaevola (the left-handed). I started memorizing mythology books in first grade, and I haven't stopped since. I have expert knowledge in Greek, Roman, Norse, Chinese, Japanese, Korean, Egyptian, Mesopotamian, American Indian and Celtic mythology and folklore.
I have a reading speed of over 1000 words per minute, and I love reading anything fiction, nonfiction or whatever catches my eye at the time.
I belong to the Church of Jesus Christ of Latter-Day Saints , and am absolutely proud of it.
I practice eight different martial arts and sword styles and love practicing with pre-gunpowder weaponry.
Want to know anything else? Drop me a line and I'll probably answer your question, so long as it isn't ridiculous. I won't lie to you: there are such things as stupid questions.
Ricorum Scaevola


Title
The Left-Handed
Fire Tamer
Ninja
Vital Statistics
Gender
Male
Family
Son of Mulciber (a name for Vulcan that refers to nothing but fire)
Status
Right behind you...
Eye Color
Grey
Hair Color
Blond
Height
6'3"
Other
Affiliation
Neutral
Weapons
Sword (short, long, single and double bladed, Japanese, European, single and double handed and everything else you can think of to throw in here) Bow (recurved and long), Axe (hand, throwing and battle), knives (long, short and throwing), mace (the club, not the canister), staffs (bladed, normal wood and double bladed) nunchucks, shuriken, fire, my bare hands (and my bare hands on fire).
Species
Demigod
Home
Wouldn't you like to know...
Greek/Roman form
Roman all the way
Appearances
Like I would let you see me...
Actor
None
Quests
none