Thrill Ride O' Love
Talk

0
1,087pages on
this wiki
Thrill Ride O' Love

Physical Information
Location
Government
Position

Valentine's Day Water Park Ride

Appearances
The Thrill Ride O' Love was Waterland's version of a Tunnel of Love. The ride had forty five degree plunges and pictures of Romeo and Juliet and other Valentine's Day related art. There was a golden Gate of Love at the end where it led outside the tunnel to an exit pool.
Description
Edit
The empty pool was at least fifty meters (yards) across and shaped like a bowl, around the rim there were bronze statues of Cupid standing guard with their wings spread and bows ready to fire. There were also multiple mirrors in the room as Percy comments that Ares and Aphrodite would be able to see themselves from any angle. There was a tunnel leading to the pool, with a sign above it reading "THRILL RIDE O' LOVE: THIS IS NOT YOUR PARENTS' TUNNEL OF LOVE!"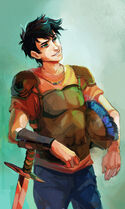 Percy, Annabeth, and Grover had to enter the ride in Waterland to retrieve Ares' shield. They, however, did not know that there was a trap set by Hephaestus. Percy and Annabeth had to go through the tunnel in order to escape numerous metal spiders. As a daughter of Athena, Annabeth is deathly terrified of spiders. The two managed to escape when Percy channeled the water from the pipes into the room. The water pushed them toward a closed gate at the exit forcing them to jump over the gate at the last minute, but Grover caught them, with the help of Luke's winged shoes.