The Garden of the Hesperides
Talk

2
1,087pages on
this wiki
Garden of the Hesperides

Physical Information
Location

San Francisco (currently)
Greece (formerly)

Government
Position

Garden

Proprietor

Hesperides

Appearances
The Garden of the Hesperides is Hera's garden in the west, where there is a single tree on which golden apples grow. It is guarded by Ladon, a hundred-headed dragon.
The apples were planted from the fruit branches that Gaea gave to her as a wedding gift when Hera accepted Zeus. The Hesperides were given the task of tending to the grove, but occasionally plucked from it themselves. Not trusting them, Hera also placed in the garden a never-sleeping, hundred-headed dragon named Ladon as an additional safeguard. The apples were called the 'Apples of Immortality'. People believed that if you eat the apples, you'll turn immortal.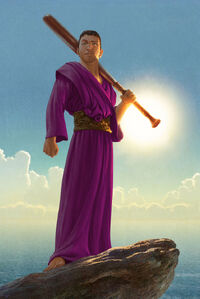 Hercules' 11th labor was to retrieve the Golden Apples from The Garden of the Hesperides. First, he flattered the Hesperides, but they didn't give him the apples. Then he found Atlas and convinced him to give him the sky for a little so Atlas went to see his daughters and they gave him a golden apple. Then Atlas gave the apple to Hercules.
It does not appear, but it is said by Luke that he was scarred while attempting to pick apples from the tree by the dragon Ladon. He failed in his quest, but he managed to return with one of Ladon's claws.
Zoë Nightshade, a former Hesperide, attempts to get past Ladon, and get her and her companions to safety, but Ladon realizes after a few minutes that Zoë is no longer a Hesperide and attacks her. She and her fellow quest members manage to escape, but Zoë is poisoned by Ladon.