Pollux
Talk

2
1,087pages on
this wiki
"
I can still fight with the other hand.
"

–Pollux after being injured, in The Last Olympian
Pollux is a Greek demigod son of Dionysus and the twin brother of the deceased Castor.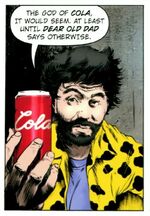 Pollux and his brother help the strawberry plants grow. Then at dinner he is seen at Table 12. Percy notices that Dionysus only has two children in his cabin, the twins Pollux and Castor.
Pollux and Castor are both seventeen when Pollux sees his twin brother, Castor, die in battle. At Castor's funeral, Pollux tried to speak for his brother, but couldn't choke out the words due to his colossal grief. He lit the funeral pyre, and sat back down mournfully, trying not to cry, Dionysus (their father) is seen following him out to make sure he's all right.
Pollux is the only member of his cabin. He fights bravely in battle and calms the other demigods down when they are worried and anxious about the spy among them. He is shown to be a good warrior known to have common sense.
He breaks his arm in battle, and Percy insists he not get back into battle, but doesn't tell him why. He tells Pollux it's a "personal favor." Dionysus specifically requested that Percy keep his son safe in a vision Percy had, but Percy didn't want to embarrass him by revealing it. This possibly implicates that Dionysus had been watching over his son after the death of Castor, and perhaps Pollux hadn't dealt with Castor's death well.
Personality
Edit
Pollux is level-headed and a good warrior. He is not very close to Percy, Annabeth, and Grover, but is very brave and protective of his brother, his best friend. When he breaks his arm, he was willing to fight with his left hand, though he is only practiced in his right, which would be suicide had he gone back in battle. This shows how much he loved his brother, being willing to die for him.
Appearance
Edit
Pollux has a round face like his father, along with his father's dark eyes and curly blond hair (though Dionysus has black hair). He is very good-looking and has an athletic look to him. He and his brother, Castor were identical twins.
Relationships
Edit
It is shown that they were very close and that they loved each other very much. Pollux was brokenhearted and crestfallen at his brother's death, and this helped his fury against Kronos and his monsters, so he had no doubts about him fighting for his brother's memory. He was also prepared to do a suicidal charge into battle against the Titans to honor his brother's memory and avenge him.
Dionysus is very protective of Pollux as shown in The Last Olympian when he asks Percy to keep him safe from harm's way. This is because he was very scared and still upset over Castor's death in The Battle of the Labyrinth.
Abilities
Edit
Pollux can control grapes and strawberry plants, using his powers he can grow vines and use them for various things like grapples or restraints, just like his father, except his powers are not restricted. This power is called Chlorokinesis. He and his father are very much alike when it comes to looks, some aspects of their personalities and their abilities. It can be presumed that he is a skilled fighter, surviving two major battles and after being injured still offering to go on.
Pollux is actually the Latin version of Polydeuces, which means 'much sweeter wine', a suitable name for him as he is a son of Dionysus, the god of wine.
He and his brother are named after the Gemini; Castor and Pollux.

Like in most versions of the story of the Gemini, Castor dies, but unlike those stories, there are no known attempts to either restore him to life or reunite them.
In the solar system, both Pollux and Castor are stars and both in the constellation Gemini, the twins.

In ancient Rome, Castor and Pollux had one of the greatest temples, located right in the center of the city.