Pit Scorpion
Talk

2
1,153pages on
this wiki
"
A small fire burned a hole in the ground at my feet. Out crawled something glistening black, about the size of my hand. A scorpion.
"

–Percy, in The Lightning Thief
A pit scorpion is a deadly type of monster like scorpion. Many were summoned from the Underworld or Tartarus during the first Olympian war.
Effects of the Sting
After a person is stung, a red welt instantly appears, oozing their yellow pus. Next, sound begins to fade and vision is blurred. Then comes loss of movement and loss of vision. Paralysis soon follows, then unconsciousness, and then ultimately death, unless the wound is treated immediately.
Luke Castellan brings Percy Jackson into the woods, reveals his allegiance to the titan Kronos and then summons a pit scorpion. He tells Percy he shouldn't go for his sword, as a pit scorpion can jump to fifteen feet and it's venom can kill a person in exactly sixty seconds. When Luke is gone, Percy quickly goes for his sword and kills the scorpion, but then realizes that it had stung him. He then rushes outside for help, before eventually passing out. Wood nymphs bring him back to camp and he regains consciousness in the Big House after Chiron heals him.
This act by Luke is referred to in the prophecy Percy is given by the Oracle before going on a quest to retrieve the Master Bolt: "You shall be betrayed by one who calls you a friend."
He had thought Luke had considered him a friend and he had believed in him, but Luke had stolen the Master Bolt and the Helm of Darkness during the Camp Half-Blood trip to Olympus on the winter Solstice, saying: "Their precious Western Civilization is a disease. It's killing the world. The only way to stop it is to burn it to the ground, start over with something more honest."
Percy finds out that Luke serves Kronos and tries to talk him out of it. He says that Luke is being brainwashed, but Luke says that the gods were arrogant and would never think that anyone would dare try to steal from them. He stole
Zeus
'
Master Bolt
and
Hades
'
Helm of Darkness
right under their noses and got halfway across New Jersey until the
gods
noticed the theft.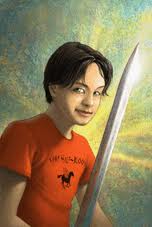 Abilities
Its deadly venom can kill within a minute (according to Luke).
It can jump up to fifteen feet in height.