Phobos
Talk

3
1,087pages on
this wiki
Phobos


Title
God of Fear
God Of Horror
Vital Statistics
Gender
Male
Family
Ares (father)
Aphrodite (mother)
Deimos and Eros (brothers)
Clarisse La Rue (half-sister)

Status
Immortal
Eye Color
Any color
Hair Color
Any color
Height
Any height
Other
Affiliation
Unknown
Weapons
Knife & Sword
Fear
Species
God
Home
Unknown
Greek/Roman form
Timor
Appearances
The Stolen Chariot
Actor
None
Quests
None
Phobos (literally meaning "fear" in Ancient Greek) is the Greek god of fear and the son of Ares and Aphrodite. He was known for accompanying Ares into battle along with his brother, Deimos. He and his twin brother Deimos were responsible for stealing Ares' War Chariot from Clarisse in The Demigod Files. The word phobia comes from his name (which he really is proud of). Timor (Fear) is his Roman counterpart.
Angry that their sister was allowed to ride in Ares' chariot (because usually only sons of Ares are allowed to), Phobos and Deimos decide to steal it from her. They then hide it in the Staten Island Zoo, and use it as bait to catch their sister and Percy. Phobos fights Percy, but is defeated and disappears.
Appearance
Edit
Phobos is described as a teenage boy with firey eyes, dressed in ratty jeans, a black shirt, and a leather jacket. He wears a bandana on his head and has a knife tucked in his belt.
Abilities
Edit
Phobos presumably has standard powers of a god.
Phobos has the ability to make one see their worst fears, shown through eye contact.
It is unable to be fought without gaining some sort of awareness; first the fish in the aquarium awaken Percy and Percy wakes Clarisse, even after this it seems to still take some amount of will power to fight back.
Without his power he's a terrible fighter (likely never having to rely on it so he never trained).
He can vanish in a curtain of yellow vapor.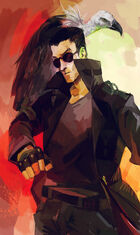 Phobos may be able to change his appearance into his Roman form, Timor. As Timor he becomes more disciplined, warlike, and militaristic. It is unknown if he is known at Camp Jupiter, and it is unknown if he has any children, Phobos or Timor.
He is often paired with his brother, Deimos, and together they cause fear and terror.
Phobos likes to taunt people and show them their fears.
When questioned about the difference between the two it was stated Phobos typically acts one person at a time and Deimos acts on a larger scale.
Their names and duties are sometimes used interchangeably.
Phobos, the larger and closer of the two moons of Mars, is named after this deity.
The word phobia derives from his name.