Nemean Lion's Pelt
Talk

0
1,087pages on
this wiki
The Nemean Lion's pelt is a magical spoil of war formerly owned by Hercules after he used the lion's claws to skin it, for one of his 12 labors. This is later owned by Percy Jackson in The Titan's Curse after his plan allows Zoë Nightshade to kill the Nemean Lion, leaving its pelt to be claimed by him.
Although in ancient times it remained a lion's pelt, in modern times it became a bulletproof and generally weapon-proof leather jacket. It was obtained when Percy used foul tasting space food from the gift shop at the National Space and Air Museum in the Smithsonian, souvenir shop in Washington, D.C. to distract it while Bianca di Angelo and Zoë, Artemis' lieutenant in the ranks of the Hunters of Artemis , shot the inside of its mouth with arrows. Even though Zoë was the one to kill the monster, she gave the pelt to Percy because he came up with the idea and she would have lost to the lion without his help. The pelt is later used as an offering to Poseidon so that Grover Underwood and the Ophiotaurus will make it back to the East coast safely.
Owners
The Nemean lion's pelt was once worn by a son of Zeus, Hercules, in ancient times. Little is revealed about what he did with it in the book, but in Greek Mythology he wore it as a cape/armor of sorts throughout his twelve labors. The pelt later returned magically to the Nemean lion once the monster was reborn in the Underworld.
Percy later tossed the pelt into the sea as a sacrifice to Poseidon when Grover says that he can take the Ophiotaurus that the Titans were chasing back to Long Island and Olympus itself. It is unknown whether the god received it or it returned to the lion itself when it is reborn.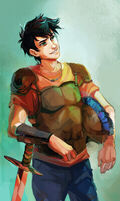 Percy Jackson later won the pelt after defeating the lion in the National Air and Space Museum in Washington, D.C.; it proved useful to him several times in battle with the skeletons that the Titan General, Atlas, sent after him and Thalia Grace. When Percy wore it, it took the form of a golden-brown duster. Thalia thought it was quite fashionable.