Necromancy
Talk

2
1,087pages on
this wiki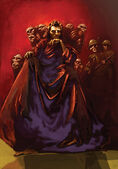 Necromancy is the mental or physical ability to control the bodies and spirits of the dead.
As shown by Hades and Nico di Angelo, Necromancy is an extremely powerful ability.
Can summon skeleton minions and zombies to do your bidding.
Communicate with dead spirits to gather information.
Have absolute control over ghosts.
Have innate knowledge about spirits and the Underworld.
Clarisse La Rue sails in a submarine of undead warriors, a gift from her father Ares, to travel to the Sea of Monsters. She claims that the losing side of a war has to give a fraction of their dead over to her father.
While on a quest to save Artemis, the group is attacked by a group of skeleton warriors brought to life by Atlas (a form of Necromancy). Bianca di Angelo (unknowingly a child of Hades) stabs one of the undead warriors and it bursts into flames and dies, even though no one else was able to kill them.
Later in the book, Nico opens up the Earth, creating a portal to the Underworld that drags the skeleton warriors into it, killing them for good.
Nico, while by himself, after running away from camp, spends time talking to King Minos; a ghost that claims to be trying to help bring Bianca back. During this time, Nico shows the ability to summon and talk with ghosts. Later he also summons a group of dead warriors to help defend Camp Half-Blood from the Titan army. He also releases Daedalus' soul, allowing him to finally die.
During the Battle of Manhattan, Hades and Nico arrive outside the Empire State Building and summon an army of undead warriors to help defend Olympus from the forces of Kronos.
Mars gives Frank a dragon tooth-tipped spear which he can use to summon Gray, an undead warrior, by stabbing it into the ground. However, Frank can only summon Gray three times.
Users of Necromancy
Edit