Mortals
Talk

0
1,087pages on
this wiki
Redirected from Mortal

Mortals are living creatures that are able to die, like demigods, humans, or animals. Demigods are half-human, thus they are alternatively a mortal as well, despite the golden ichor in their blood. While several monsters take the disguise of mortals, they are not actually mortal as they go to Tartarus and eventually reform upon their deaths. Most ordinary humans, however, play only minor parts in the series, with the major exceptions of Sally Jackson, Rachel Elizabeth Dare, and May Castellan.
Types of Mortals
Edit
Most humans cannot see the world of the gods thanks to a force known as the Mist, which hides the true nature of things and adapts what humans will see to something they can understand and comprehend. For example, if a human were to see a demigod battling a monster, they would think they are seeing a delinquent attacking a normal bystander or a child being assaulted by a thug. Certain humans however can see through the Mist, though it is never made clear why this is possible. The ability seems to be inborn and is most often found in those that have special destinies. Children can also apparently see through the Mist, most likely because their minds and imaginations readily accept the supernatural and unexplained.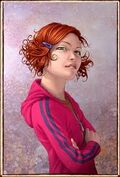 Humans were supposedly very happy in the beginning, during the time called the "Golden Age" of Kronos' rule. It is said they wanted nothing and lived in perfect bliss. This, however, was a lie and propaganda put forward by Kronos. The rule of the Titans was tyrannical and chaotic, and they saw humans as insignificant vermin and treated them as such. Kronos himself used mortals as a source of cheap entertainment, or as "appetizers," as Chiron put it. Humans during the Golden Age were innocent and non-violent, but despite their pure nature would have quickly succumbed to the chaos of the Titan rule.
Things improved for Humans after the Titan War, when the Olympians came to power. At first the gods were neutral toward humanity's fate, but after a while they came to warm up to them. Humans society began to evolve and grow under the order of the Olympians, with their advancement being sped up significantly by Prometheus' gift of fire. The gods, though initially angered by his act, soon took it upon themselves to guide and protect humanity. Despite their self-righteous attitude of superiority towards them, the gods are deeply connected to and even dependent on mortal society and follow the flow of power in the mortal world, residing in whatever country the flame of western civilization shines brightest.
Main article: Demigods
While demigods are the offspring of a god and a human parent, they are still considered mortal as demigods do not live forever and can be killed. Several demigods during the Percy Jackson and the Olympians series are killed in battle when the Titan army marched on Manhattan and others were killed during the course of the series. Demigods are not affected by the Mist, but can be tricked by it if the magic is strong enough (such as the Labyrinth or Mount Othrys).
Several times during the series, demigods call humans mortals, even though demigods are mortals themselves.