Marie Levesque
Talk

0
1,087pages on
this wiki
Marie Levesque


Title
Queen Marie
Vital Statistics
Gender
Female
Family
Hazel Levesque (Daughter)
Status
Deceased
Eye Color
Unknown
Hair Color
Gold Brown
Height
Unknown
Other
Affiliation
Gaea
Weapons
None
Species
Human
Home
New Orleans
Alaska
Greek/Roman form
None
Appearances
The Son of Neptune (in Hazel's flashbacks)
Actor
None
Quests
None
"
You were my gift, Hazel. My most precious gift. I was foolish to think I needed anything else.
"

–-Marie, to Hazel, in The Son of Neptune
Marie Levesque (also known as Queen Marie) was the mother of Roman demigod Hazel Levesque and a lover of Pluto.
Marie Levesque was a fortune teller who lived some time before World War II and specialized in telling people their fortunes or talking to spirits, but she didn't believe it herself. One day she managed to summon Pluto, the Roman god of wealth and the dead. They had a child together and named her Hazel, but she had a curse placed upon her. Pluto swore on the River Styx that Marie could have anything she wanted, so Marie wished for all the wealth of the Underworld and he was forced to give them to her. Hazel could call precious metals and stones from the ground (diamonds, gold, silver, rubies etc.), but anything she pulled from the earth was cursed. Without knowing this, Marie began giving people the stones as payment, but soon the people whom she gave them to became injured or died. It was around this time that Gaea began to turn her against Pluto who said he was trying to protect them, but she wouldn't listen and on Hazel's birthday, they moved to Alaska.
Every night from then on, Marie would be taken over by Gaea and convinced Hazel to help revive her son, Alcyoneus. Hazel did as she was told and on the last night, Marie was willing to sacrifice her life to save Hazel, but Hazel sacrificed her own life to save her mom by pushing all the metals and stones she had called up back into the earth and they both died. In the Underworld, Hazel would be placed with the heroes in Elysium, while her mom would be placed in the Fields of Punishment. Hazel could not allow that and gave up her place with the other heroes so that she and her mother could spend eternity in Fields of Asphodel. Hazel never saw her again after this as the two never found each other and Hazel says she may not even remember her life.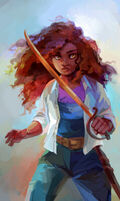 Hazel remembers her mother in flashbacks, but she does not make an appearance in the book.
Personality
Edit
Marie is greedy and quick to blame others for faults that are her own. She blamed Hazel for many years for her cursed stones that she pulled from the ground, even though she was the one that wished for it. She also blames Pluto as well and feels he didn't protect her like he claimed. While she was selfish, she did care for Hazel, even willing to give her life up in hopes Hazel would be safe.
Her name is very similar to another lover of Hades/Pluto, Maria di Angelo, who is also deceased.
She liked to be called "Queen Marie".
Inspiration for Marie Levesque may have come from Marie Laveau, queen of modern American voodoo born in New Orleans, Louisiana.
Her greed became her downfall, as Pluto granted her wish for fortune. However, the wish laid a curse upon Hazel, that she would summon deadly jewels.