Hylla
Talk

6
1,087pages on
this wiki
"
"Good-bye, Hazel Levesque. If we both die tonight-well, I'm glad I met you."
"

–Queen Hylla saying farewell to Hazel, in The Son of Neptune
Hylla
is a
Roman
demigod, daughter of
Bellona
and is
Reyna's
sister. She used to be an employee on
Circe's
island
, but is now the Queen of the
Amazons
.
She was the first-born to Bellona, born in Puerto Rico.
Hylla greets Percy Jackson and Annabeth Chase at the docks of C.C.'s Spa and Resort. She's seen holding a clipboard and asks them if it was their first time at the spa. She then takes Annabeth away for a makeover while Percy stays with Circe.
Hylla became the Queen of the Amazons sometime after her confrontation with Percy and Annabeth. She still has a desire to kill Percy for destroying her "home" and she reveals to Percy that she's been seeking revenge on him for the past four years. It is also revealed that Reyna is her sister. When Hazel Levesque, Percy, and Frank Zhang arrive at the Amazon base, Hylla has Percy, as well as Frank, locked up and holds a conversation with Hazel and Kinzie. Hylla also says that she knows there are both Roman and Greek demigods, but treats it as if it as nothing. She tells Hazel that Otrera, the first Amazon queen, was brought back to life due to the Doors of Death being open and that she is gaining support from some of the Amazons. Otrera plans to challenge Hylla to a battle to the death for control of the Amazons as anyone can challenge the queen for their position. While the challenge is a battle to the death, Otrera can't die and would reform everyday until she wins, making Hylla worry that she would be killed and the Amazons would follow Otrera into battle against Camp Jupiter, but Hylla would like nothing more than to help as her sister, Reyna, is the praetor for the camp.
Hylla, when learning that the three are on a quest to free Thanatos, tells Hazel that she can't set her friends free as it would look like she was weak, but if they managed to escape somehow and defeat the Amazons loyal to Otrera, they could escape on Arion, a horse none of the Amazons could tame, but took a liking to Hazel after she had fed him a gold brick. She tells Hazel that she will hold out against Otrera as long as she can until they finish their quest and would help her sister if she survived.
During the battle at Camp Jupiter, when the forces of the two armies were almost even, the Amazons appear blowing their horns ready for battle, much to Polybotes' delight until he notices that Hylla had managed to kill Otrera two nights in a row. Hylla leads her warriors into battle and helps push the Giant Army into a retreat. During the celebration after the battle, she spends time with her sister. The following day, during the council meeting, she sides with Percy about letting the Greeks land after he makes a comment saying that no one had expected the Romans and Amazons to work together a week ago, saying "He's got a point!"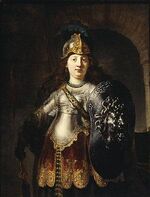 While Reyna is talking to Annabeth, she mentions that Hylla had left with the Amazons earlier that morning before the Argo II arrived.
Personality
Edit
Hylla is a strong and brave young woman. She loves and cares about her young sister, Reyna. She wanted to protect Reyna, so they went to Circe's island hoping to keep her safe.
Appearance
Edit
Hylla is described to look like an older version of her sister, Reyna, with long black hair and dark eyes. According to Hazel, she's athletic and lean, dressed in a sleek black leather jumpsuit with Queen Hippolyta's belt, a strange-looking accessory made of interlocking gold links, around her waist. After her confrontation with Percy, Frank and Hazel, she wears her sister's ring.
Abilities
Edit
ADHD: Like most demigods, she possesses inborn supernatural battle reflexes and senses that she uses to analyze the fighting style of her opponent.
Demigod Abilities
Edit
Weapons Expert: As the daughter of Bellona, Hylla is a natural weapons expert, understanding how to use weapons faster than other demigods
Hylla has the longest gap between the time she was first introduced and the next time she appears in the series, as she appeared in The Sea of Monsters, but didn't appear again until The Son of Neptune, a five book gap.
She is the first Roman demigod to appear in either of the Camp Half-Blood series, appearing in book two of the Percy Jackson and the Olympians series, making Jason Grace the second Roman to appear in the Camp Half-Blood universe.