Harley
Talk

2
1,087pages on
this wiki
Harley is an 8-year-old Greek demigod son of Hephaestus and a camper at Camp Half-Blood.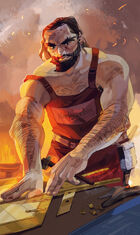 He is introduced when Leo Valdez visits the forges. He is the youngest member of the Hephaestus cabin. He is working along with his siblings to catch the bronze dragon, later named Festus (Latin for Happy) by Leo, and is affected by the so-called "Curse of Cabin Nine," which makes everything they build go haywire. The only time he is seen, he is depressed because of the curse. He has many siblings, including Leo, Nyssa, Christopher, and Jake Mason. Leo states that all of the kids in this cabin look different, saying, "You'd never think, 'Hey! It's the Hephaestus bunch!'"
Appearance
He is described as beat-up and depressed, probably because of the Curse of Cabin Nine. Harley is also very strong as he works on the forges and Leo describes him by saying "even little Harley looks like he could probably go six rounds with Chuck Norris without breaking a sweat." Harley's hands are describes as being large and calloused.
Abilities
As a child of Hepheastus, it is assumed that he has the following abilities:
He is an expert builder.
He is an expert mechanic.
He can sense machines, mechanics, or metal.
He can identify machinery type and use by touch.
He posses Technokinesis.
He can sense faults in metal ore.
He can find and sense traps in the ground.
Trivia
It is hinted that Harley is named after "Harley Davidson," the motorcycle company.