Gladius
Talk

0
1,087pages on
this wiki
The Gladius is a sword used as the standard and the primary equipment by the Roman Legionaries, since General Marius, and is a common weapon of the Roman demigods. A fully equipped Roman Legionary was armed with a shield, several javelins, a sword, and often a dagger. Conventionally, the javelins would be thrown to disable shields of enemies before engaging the enemy, at which point the gladius would be drawn. The soldier generally led with his shield and thrust with his sword.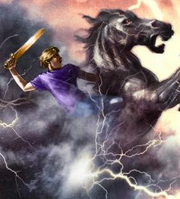 The gladius has a comparatively shorter blade than ancient Greek swords. Possessing no crossguard and a large pommel, the sword was forged with a lighter and consequently faster blade. The gladius required a fighting style more based on thrusting and moving about than the cutting and slashing of heavier and sturdier blades.
Technique and advantages
Edit
The Gladius played a major part in Rome having the best army in the Ancient World. 
It was used to thrust under a shield which meant that it could damage the vital parts of the body. This gave the Roman legionary a sizable advantage over other soldiers from Greece or Barbarians as unlike these (the Barbarians in particular as the Greeks had the Phalanx) two their body was protected when they thrusted by their shield.
Near the end of the book, Juno presents Jason with a Gladius to replace his lost weapon Ivlivs which had been destroyed in the battle against the giant Enceladus. This gladius has a leather sheath.
Gladii are standard issue to everyone in the Legion with the exception Hazel, who uses a spatha and Frank, who uses a bow and arrow.