Satyr
Talk

15
1,087pages on
this wiki
Redirected from Faun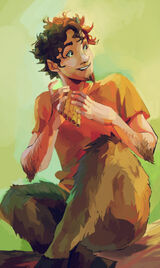 Satyrs, also known by the Roman term Fauns, are creatures with the upper body of a man and the lower body of a goat complete with hairy goat legs and hooves, as well as goat horns, and the pointed ears of a goat. When in public, they tend to be clumsy, for they have to wear fake feet and hats so that the sound or appearance of their hooves or horns won't draw unwanted attention from mortals.
Description
Edit
Satyrs are monsters that work for Camp Half-Blood and go out into the world to search for Greek demigods. While searching, they wear disguises, such as fake feet and hats that hide their horns. It is possible that the Mist cannot hide all of a satyr's features however, as a flight attendant of Tristan McLean's saw Gleeson Hedge's hoof, but passed it off as just seeing things as well as Percy Jackson giving Grover Underwood his shoes in The Lightning Thief so that the life guards wouldn't see Grover's hooves. Many went to search for Pan, the ancient god of the Wild, until he faded. Most of those satyrs were lured to Polyphemus' Island because of the overpowering scent of the Golden Fleece during their search for Pan and then eaten. Others, such as Ferdinand, who was killed by Medusa, were attracted to other monsters for reasons unexplained. Satyrs also worship the god Dionysus. They also seem to appreciate the goddess Artemis as she is "so into nature," as stated by Grover.
The most commonly known satyr is Grover, the best friend and protector of Percy. Grover was sent to search for demigods and found Percy, and later became the best friend of Percy. He also had to make sure that Percy stayed out of trouble, which was hard because Percy was a child of
Poseidon
, and due to children of the
Big Three
having a stronger scent, it caused him to attract more
monsters
.
Many satyrs go to Camp Half-Blood to become a Searcher. A role of which they will usually conduct a search of Pan, the god of the Wild. Long ago, Pan disappeared, as the modern civilization was tearing apart the wild. Afterwards, in The Battle of the Labyrinth, Percy, Grover, Tyson, Annabeth, Nico, and Rachel find Pan in a nature paradise where Pan fades and soon he gives his role of Lord of the Wild to Grover.
Fauns are the Roman form of satyrs. At Camp Jupiter, all the fauns do is lounge around and beg for money and are used for amusement purposes, the complete opposite of satyrs at Camp Half-Blood.
Abilities
Edit
They can detect half-bloods and monsters (but not underground) by scent.
They can control plants and insects by playing music on their reed pipes.
They can talk to animals and some monsters.
They have animal-level hearing and smell.
They can eat recyclable material (tin, aluminum, plastic, etc) and even wood and grass.
They can run at superhuman speeds, along with climbing, as a result of goat legs.
They can sense nature magic (such as the Golden Fleece, Pan, and gifts of Pan).
They practice woodland magic.
When they die, they are reincarnated as plants or trees, such as laurels (if they are lucky), and flowers (the average satyr).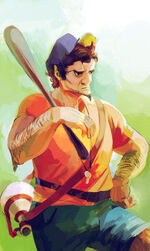 Notable Satyrs
Edit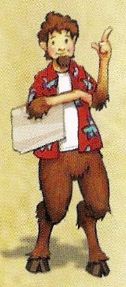 Notable Fauns
Edit
Oddly, in the myths, satyrs are described as creatures with wild desires, making the choice of them to collect young demigods, particularly girls, slightly questionable in nature.
The Roman term for satyr is faun, probably derived from the faunus, which happens to be the Roman counterpart of Pan.
At Camp Half-Blood, satyrs sit at the Dionysus table for meals, along with his children and Dionysus himself.
In some Roman myths, fauns were thought to have a large poetic imagination.
In Camp Jupiter, fauns are treated as annoying beggars while in Camp Half-Blood, they are more important as they are Keepers and Searchers, which adds more demigods to their camp.
They despise being underground, as everything smells the same. This makes it hard for them to smell danger.