Scythian Dracanae
Talk

4
1,087pages on
this wiki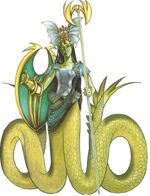 Scythian Dracanae are commonly seen as female reptilian monsters with some human features, prominently shown as soldiers for Kronos in the Titan Army.
Percy Jackson encounters Scythian Dracanae in his second adventure aboard the Princess Andromeda. These female reptilian 'menaces' prove to be ominous new foes.
The Dracanae, among other monsters, attempt a fruitless attack on Percy and his friends soon after defeating Atlas on his mountain, Mount Tamalpais. Dr. Chase intervenes with Celestial Bronze bullets being shot from his Sopwith Camel biplane.
Percy is forced to fight various villains in Antaeus' lair, the first of which being a dracanae. Percy almost immediately kills it, much to Antaeus' disapproval. They also show up in the actual Battle of the Labyrinth as one of the main types of soldiers.
The dracanae appear again as one of the main soldiers in Kronos army attacking Manhattan. They also serve as Kronos' bodyguards in some instances and one is even crushed by a flagpole carrying Brazil's colors outside the United Nations Building. Their leader, Queen Sess, appears but is shot with an arrow by Chiron.
Jason Grace remembers armies of Scythian dracanae on Mt. Othrys when he and the Legion scaled the mountain.
Appearance
Edit
The Scythian dracanae are described as humanoid females with twin serpent trunks instead of legs. They have been described as "Dragon women" or "Snake women." Their walk has been described as "a combination of walking and slithering like walking on living skis" by Percy. When they talk, they hiss the letter S when they say it.
Notable Dracanae
Edit
Only one dracanae in the entire series has been named: Queen Sess.