Dakota
Talk

4
1,087pages on
this wiki
Dakota
is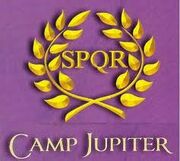 a Roman demigod son of
Bacchus
and the senior
centurion
of the
Fifth Cohort
.
Jason lists Dakota as one of his friends from Camp Jupiter.
Dakota is introduced as the leader of the Fifth Cohort and accepts Percy into the group. He sits with Percy, Hazel, and Frank and tells Percy the back story about their cohort's bad reputation, including losing the eagle and some things about Jason. Due to his odd behaviour, Percy asks Hazel if he is 'always like that'. Hazel replies that being the son of Bacchus, the wine god, Dakota had a 'drinking problem'. Alarmed, Percy askes her disbelievingly if they let him drink wine. Hazel, slightly taken aback, replies that Dakota could not drink wine, as he was underage, and if the camp let him, there would be more than a few 'problems.' Therefore, he drinks red Kool-Aid, but with triple the amount of sugar, and his ADHD and dyslexia, he seems drunk. Hazel also believes that 'one of these days, Dakota's head will explode'.
Dakota appears again during the battle against Polybotes' army at Camp Jupiter. Percy hands him the retrieved eagle, which he uses to destroy the monsters and lead the Legion into battle. He also becomes much more serious once handed the eagle, because of how important it is.
Dakota is called forward when Reyna demands all Centurions stand by her when Jason Grace, Piper McLean, Leo Valdez, and Annabeth Chase arrive in the Argo II. Later in Charleston, Jason hits him over the head with his gladius and knocks him out, although it is shown that Jason was sorry about it.
Personality
Edit
Dakota has an addiction to red Kool-aid, which he drinks with three times the normal amount of sugar. Combined with his ADHD, his hyperactive behavior causes people to believe he is drunk, being a son of Bacchus. He seems to care for his fellow legionnares and sits down with Percy during dinner to welcome him to the camp. He has a deep respect for his comrades and is a well chosen commander of the Fifth Cohort.
Appearance
Edit
He is described as being tall and buff, with curly black hair. However, his mouth is almost always vampire red (according to Percy), due to his Kool-Aid addiction, and his eyes don't quite line up, so everyone who looks at him feels as though the world is leaning, as put by Hazel.
Etymology
Edit
Dakota, a name of Native American origin, means "friend" and "ally." It may also mean "forever smiling."
He shares Bacchus' addiction to drinking, although he drinks Kool-Aid instead of wine or Diet Pepsi.
Dakota and Luke both share a love for Kool-Aid.
He always drinks red Kool-Aid with 3 times the normal sugar. According to Hazel, this makes him go crazy because of his ADHD.