Centaur
Talk

2
1,087pages on
this wiki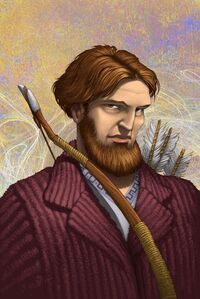 Centaurs are creatures that are part horse and part human.
Centaurs are descendants of Centaurus, the child of Ixion and Nephele. 
Centaurs are best known for their fight with the Lapiths - a civilized, Thessalian tribe, caused by their attempt to carry off Hippodamia and the rest of the Lapith women on the day of her marriage to Pirithous, king of the Lapiths and son of Ixion. This fight came to be known as the Centauromachy. 
Centaurs were notorious for being overly indulgent drinkers and carousers, given to violence when intoxicated, and generally uncultured delinquents. Each Centaur was also wild and lusty, except for the most well-known centaur, Chiron. True centaurs were born of sun and raincloud, until the female centaurs (called Centaurides) came from some normal horses, and centaurs started out like normal creatures, from conceived from baby to adult. Chiron was another exception. He was born from Kronos and the nymph Philyra. He was half-horse because Kronos was half-horse when he was with Philyra.
One known centaur is Chiron, the activities director at Camp Half-Blood, who appears throughout the rest of the series. In the train to Denver, Percy sees a family of centaurs hunting next to the train. A little boy centaur smiles and waves at him.
When Percy Jackson fights Luke Castellan, the centaur organization, the Party Ponies (Florida Chapter) make an appearance. They fight Luke's army on the Princess Andromeda, and help Percy, Annabeth, Grover Underwood, Tyson and Clarisse La Rue to escape the ship. The party ponies later take the demigods back to Camp Half-Blood, with Chiron.
At least one centaur is known to have been defeated by a Giant under orders from Antaeus.
The Party Ponies, commanded by Chiron, assist the demigods in the Battle of Manhattan, though Percy sees no other centaurs other than Chiron at the end of the battle. He deduces that the rest were either killed or ran away.
The army of monsters that attack Camp Jupiter have another breed of centaurs who seem to enjoy killing demigods. These centaurs appear to be a different breed from the Party Ponies, their horse halves being palamino and horns sticking out of their heads. They are all either killed or manage to flee the battle.
When the Argo II is attacked by the Skolopendra, Leo Valdez, Hazel Levesque, and Frank Zhang fall into the water unconcious. They are saved by Ichthyocentaur, which are half brothers to centaurs.