Canada
Talk

0
1,087pages on
this wiki
Canada

Physical Information
Location

North America

Government
Position

Country

Ruler

Prime Mister of Canada and Govenor General of Canada

Appearances
Canada is a country in the continent of North America, sharing a border with the United States and geographically being the second biggest country in the world. It is the home of Boreas and his children Khione, Zethes, and Calais, as well as Grandma Zhang and the former home of Frank Zhang.
It's mentioned in Grover's letter from Gleeson Hedge that the woods outside Toronto is being attacked by a badger and that they have to fall back to Ottawa.
Jason, Piper, and Leo go on a quest to save Hera. Their first destination is Quebec, Canada, home of the Boreads.
Percy, Hazel, and Frank visit Grandma Zhang in Vancouver.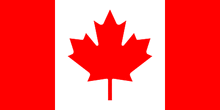 Residents
Edit
The word "Canada" comes from the St. Lawrence Iroquoian word kanata, which means village or settlement.
So far, Frank Zhang is the only demigod who is from Canada.