Home
Talk

121
1,259pages on
this wiki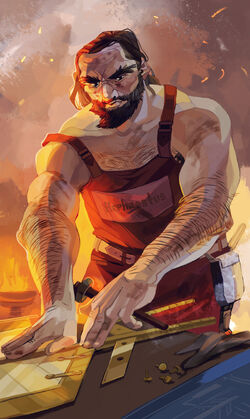 Hephaestus is the Greek god of forges, fire, technology, craftsmen, sculptors, volcanoes, and blacksmiths. His symbols are the ax, an anvil, a pair of tongs, hammer, and fire. His Roman counterpart is Vulcan. Hephaestus is portrayed by Conrad Coates in the film adaptation of The Lightning Thief.
Due to Zeus' giving birth to Athena, Hera was angry at his actions. She then gave birth to Hephaestus. He was an ugly and deformed child. When Hera saw the unsightly appearance of her son, she threw him from Mount Olympus, crippling him forever. Afterwards, Hera spread a false rumor that it was actually Zeus himself who hurled Hephaestus down from Olympus. Hephaestus landed in the sea, where he was found and raised by the Thetis, a kindly Nereid. However, Hera's act of cruelty haunted Hephaestus, and he sought revenge.
After spending nine years under the sea with Thetis, Hephaestus finally rode back to Mount Olympus on the back of a donkey. As he rode into the Olympian Throne Room, all of the gods (especially Hera) were shocked into silence. With him, Hephaestus had brought magnificent new thrones for all of the Olympians. Hera's throne was made from shining pure adamantium, making it particularly beautiful. A very impressed Hera quickly seated herself in it, and instantly, she was tightly bound by invisible and unbreakable chains. The chains grasped Hera so tightly, that she could not breathe, and all of the divine ichor in her veins flowed to her arms and legs. Ares and Hermes tried to convince Hephaestus to release his mother, but the latter remained stubborn and inexorable. Finally, his half-brother Dionysus (the god of wine), decided to take matters into his own hands. Dionysus began visiting Hephaestus' forge from time to time, and peacefully chatting with him. The two gods quickly became friends, and a week later, Dionysus introduced Hephaestus to wine, and finally convinced the intoxicated god to forgive Hera, and took him back to Mount Olympus on the back of a donkey. There, Hephaestus declared his forgiveness of Hera's act of cruelty, releases her. Afterwards, Hephaestus and Hera made peace with each other.
(more...)

Jack Firesword (also known as "Jack") has been a member of the Camp Half-Blood Wiki since February 15, 2012. He has 252+ edits. Congratulations to him from everybody at Camp Half-Blood Wiki!