Home
Talk

119
1,140pages on
this wiki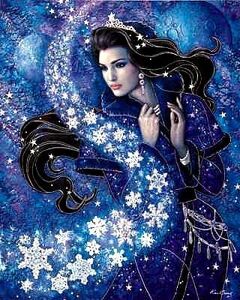 Khione is the Greek goddess of snow, daughter of Boreas, god of the North Wind, and sister of Zethes and Calais. She is depicted as a goddess in the series, while in mythology she is visualized as a snow nymph. Her Roman form, Chione, is sometimes used as merely an alternative way of spelling her name.
Khione is the daughter of Boreas, the North Wind and Oreithyia, whom he abducted. She was loved by Poseidon and had him a son, Eumolpus. In fear of her father's wrath, she cast the child in the sea, but Poseidon saved him and entrusted him to the care of Benthesikyme. The Eumolpidae in charge of the Eleusinian mysteries claimed descent from her, as the mother of Eumolpus with Poseidon. She was hardly ever represented in Greek or Roman mythology.
When Jason Grace, Piper McLean, and Leo Valdez visit Boreas's penthouse suite in Quebec, they were given a not-so-warm welcome by Khione and her two immortal demigod brothers Zethes and Calais. As soon as he sees her, Leo develops an instant crush on her, but she doesn't like him because she can sense the fire within him. She makes him wait with Calais while she and Zethes take Jason and Piper to see her father, Boreas. She supports the idea of turning them into ice statues, but her father disagrees and she is extremely angry at him, but was forced to listen resulting in her letting them go.
Later when the demigods were flying over Detroit, she summons a strong wind to knock Festus out of the sky and freezes the wires in his head which damages the control disk, thus preventing him from flying. Leo is confused about the frozen wires but didn't suspect it was Khione.
(more...)

Solo+pbellUNITE has been a member of Camp Half-Blood Wiki since May 30, 2013, and has 562+ edits. Solo+pbellUNITE has rollback and chat moderator rights on the wiki. Congrats to Solo+pbellUNITE from everyone at Camp Half-Blood Wiki!
Create blog post
Latest Blogs
Hi Guys,

To reward you for being a member of the Alliances, Wikia has teamed up with Loot Crate to r…

Read more >

Hi guys Nep here! (that was kind of obvious lol) but anyway this blog is supposed to be The Seven'…

Read more >
See more >