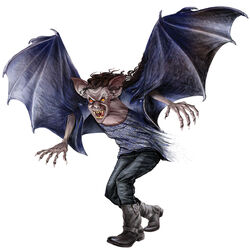 Alecto is one of the three Furies, the three chief servants of Hades, and the head torturers in the Underworld. The translation of her name is "Implacable anger". She's the one sent after Percy Jackson in The Lightning Thief.
While Nyx claims to be the mother of the Furies, it is said in Percy Jackson's Greek Gods that Alecto and her sisters were born from Ouranos' ichor when he was murdered by Kronos. They fled into the darkness of Tartarus, but when Hades became king of the Underworld, he hired the Furies to be his enforcers. Alecto, in particular, would carry out her master's most important duties.
Alecto is disguised as Mrs. Dodds, a pre-algebra teacher at Yancy Academy. She disliked Percy Jackson and it was later discovered that she was actually one of the Furies and not really human at all. When Percy did his first act of inhuman powers (making the water in a fountain reach out of the fountain's basin, grab Nancy Bobofit, and pull her in), Alecto's suspicions of Percy were partially confirmed. Because of his power over water, Alecto discovered that Percy is the son of Poseidon. However, because Hades believed him to be the thief that stole his Helm of Darkness, she brought Percy to an area without any people so she could attack him and find the location of the helm. It is then that she revealed her true form and attacked Percy. Percy, armed with Riptide at the last moment by Chiron, swipes his sword connecting and turning Alecto into dust and sending her spirit back to the Underworld. On the return trip back to school, she was replaced by Mrs. Kerr, another teacher that the students claimed had been there all year and none of them knew who Mrs. Dodds was (except Percy, Chiron, and Grover). Thinking that they were trying to pull a prank on him, Percy would sometimes try and pull a Mrs. Dodds reference around Grover who would continue to claim that there was never a Mrs. Dodds.
(more...)

The Supreme User Of This Wiki (also known as "Supreme") has been a member of the Camp Half-Blood Wiki since February 15th, 2015 and is a rollback and chat moderator. She has 2,185+ edits. Congratulations to The Supreme User Of This Wiki from everybody at Camp Half-Blood Wiki!
Create blog post
Latest Blogs
Update: I e-mailed staff and I received an e-mail this morning saying that Dark has officially been…

Read more >
See more >