Briares
Talk

0
1,087pages on
this wiki
Briares is the last Hekatonkheire (giants with a hundred hands) alive as his two brothers, Cottus and Gyges, have faded away with because no one remembered their story.
Briares is the older brother of the Titans and Cyclopes, a son of Gaia and Ouranos. Their father, fearing them, jailed the Hekatonknieres in Tartarus until they were freed by Kronos in order to help in the fight. After the king of the Titans took full control over the world he jailed them again, for the same reasons as Ouranos had done so. This time Kampê was chosen to guard them. Zeus then freed them and in return they fought on the side of the gods. He has incredible strength and ferocity that surpassed that of all Titans whom they helped overthrow. At the final battle they were of great help, throwing so many rocks that the Titans thought that the mountain was falling apart. When they ran away the gods made their surprise attack.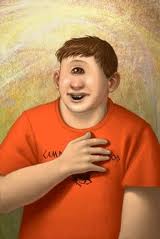 Briares had been captured by the Titan army and imprisoned on Alcatraz Island, San Francisco, being tortured and threatened by Kampê to join them, but despite this he had refused to give in. Spurred on by Tyson and realizing that they had encountered a potentially powerful ally for the war the group planned a rescue. Even so, Briares was immensely terrified of Kampê and refused to leave until Percy beat him in a game of rock, paper, scissors by using a finger gun (a trick taught to him by his stepfather, Paul Blofis), which defeated Braires' many rocks, papers, and scissors. They save him from Kampê but Briares subsequently leaves; having lost his confidence and also in a state of depression because his brothers had faded. This breaks Tyson's heart as Tyson had held high respect and regard for the Hundred Handed-Ones.
He reappears during the battle at the end of the book with the help of Daedalus and buries Kampê by throwing boulders (from Zeus' Fist) from each hand at her.
Afterwords, he goes to Poseidon's forges to make weapons for the war and to teach the Cyclopes ways they had forgotten in weapon forging in order to give the heroes a much needed edge in the war. He fights for Poseidon in the war against Oceanus, the Titan Lord of the sea.
He is seen by Percy just outside Poseidon's palace fighting in the war against Oceanus, battling a giant lobster. Poseidon said that he wished more of them were around to fight for it would ensure victory. He is also seen chaining Typhon with the other cyclopes.
Appearance
Edit
As his species name suggests, Briares has one hundred arms that protrude from his chest, and looks like a "forkful of spaghetti", according to Percy in The Battle of the Labyrinth. His arms look like human arms, but his huge feet are unlike humans' with eight toes on each foot. He also changes faces along with his emotions, except for his eyes, which are solid brown and have no whites. Percy describes him looking like he has several squids attached to his body.
Briares is the only friendly child of Gaia in either series.