Aurum
Talk

0
1,087pages on
this wiki
Hephaestus is still working on Aurum

This article is not yet finished because it deals with material that is yet to be released. As such, some of the information might be inaccurate and is likely to change when new information becomes available.
Aurum, along with Argentum, is one of Reyna's automaton guard dogs. Aurum is the golden hound, as Aurum is Latin for gold. Aurum has rubies for eyes. Both of the dogs can sense when someone is lying and will attack you if you are.
While not having a large role in the book, Argentum and Aurum follow Reyna both times she talks to Percy alone. They seem to dislike Percy greatly, growling at him almost the entire time they are in the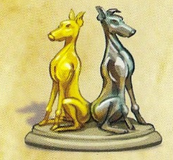 same room as him. She warns him that they can tell when people don't tell the truth and that they hate liars.
Aurum and Argentum both appear in the book. They are with Reyna when she talks with Annabeth near the beginning of the book, and when Reyna confronts Annabeth later in the books.
Aurum is the only automaton in both series to be made entirely of gold.
Aurum and its counterpart, Argentum, may have been modeled after King Alcinous's gold and silver guard dogs, mentioned in Book Eight of The Odyssey.
Aurum means gold in Latin.