Ares' Sword
Talk

2
1,087pages on
this wiki
Ares' Sword is one of Ares' symbol of power.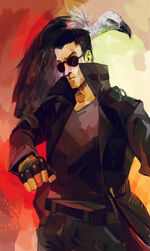 Ares originally disguises it as a hunting knife when he first meets Annabeth, Grover, and Percy. He uses it to clean his fingernails, threatening the mortal waitress to take the golden drachma as payment for the burgers that the three demigods eat. He also cloaks it as an aluminum baseball bat shortly before dueling against Percy. In addition, it's seen by mortals through the mist as a shotgun.
Appearance
Edit
Although the sword can morph into whatever weapon Ares wants, such as a shotgun or a baseball bat, its true form is that of a long sword with a skull-shaped pommel and a ruby embedded in the mouth.
Oddly, Ares' symbol of power in the classic myths was a bloodstained spear which is shown on the banner of the Ares Cabin; it is possible the sword can transform into that.