Ares' Cabin
Talk

2
1,087pages on
this wiki
Ares' Cabin

Location
Government
Position

Cabin for Ares' offspring

Appearances
"
If you ask me, this place is even more dangerous than the Ares' Cabin. At least with Ares, you can learn where the land mines are.
"

–Annabeth comparing Hypnos' cabin to Ares' Cabin.
Ares' cabin (#5)
is the cabin that houses
demigod
children of
Ares
.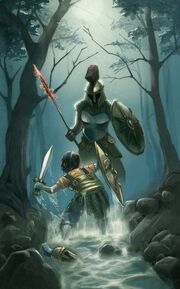 Description
Edit
Ares' cabin is badly painted with an angry red color, has barbed wire on the roof, and a stuffed boar's head on the doorway. The eyes of the boar seem to stare at whoever is walking by. Apparently, there are also landmines surrounding it. It is also described as having punk rock music blaring from it.
Known Occupants
Edit
Ares has many demigod children including:
Abilities
Edit
They all have enhanced strength, swiftness, and combat skills.
All children of Ares are naturals at using every weapon known to mankind.
They are experts in war strategies.
They have the ability to curse the weapons of their opponents (ex. turning arrows into rubber).
The Blessing of Ares
Edit
The Blessing of Ares is a blessing given to children of Ares, when they have shown great bravery in battle. Ares grants them his blessing and they are granted with temporary invulnerability.
Initiation Ceremony
Edit
The Initiation Ceremony is a ritual used by the Ares' Cabin to initiate a new camper by dunking his or her head in the camp toilets. The ceremony might have been broken due to Percy Jackson using his abilities as a son of Poseidon to dose Clarisse and her siblings in their attempt on him.
Magic Items
Edit
Clarisse had an electric spear during the events of The Lightning Thief, however this one was broken by Percy Jackson when they are playing Capture The Flag.
Clarisse uses a second electric spear named Maimer, though everyone else calls it Lamer behind her back. This one was broken by a drakon in The Last Olympian.
The Ares cabin was eventually given a flying chariot (that they recovered alongside the Apollo's Cabin), during the Second Titan War in The Last Olympian. However they may have turned it down.